Modern, ultra-durable and capable of enhancing pool landscaping in ways other types of fencing can't come close to, a glass pool fence has become the favourite choice for Australia's backyards. However, the type of glass fencing you use – whether semi frameless glass pool fencing or frameless – will make a huge difference on the final impression and long-term appeal of the project.
When the goal is having those crystal clear, unobstructed views, semi frameless glass simply falls short of the aesthetic purity you get with frameless.
A Semi Frameless Pool Fence Has 'Half' a Frame
Where a frameless glass fence is held in place by small stainless steel spigots or a seamless channel at the base of the glass – which means there is nothing in between the individual panes of glass that make up the fence – a semi frameless fence has aluminium or steel poles positioned in between the glass.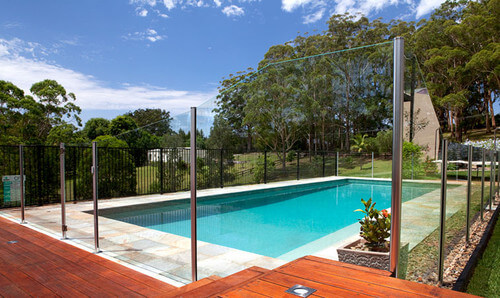 Photo by Crystal Pools – Look for pool pictures
As a result, there is no continuity between the glass panes. The metal poles are usually as high as the glass and they create a series of visual breaks along the barrier. This is why it is called 'semi frameless'. There is an actual frame around two of the four sides of each glass pane.
This type of fencing comes with some key disadvantages you should know about before starting a project with semi frameless glass. Take a look at these drawbacks so you don't have to learn the hard way that semi frameless – both in the building process and in the finished product – doesn't live up to the wow factor that frameless glass offers homeowners.
Semi Frameless Fencing Takes Longer to Install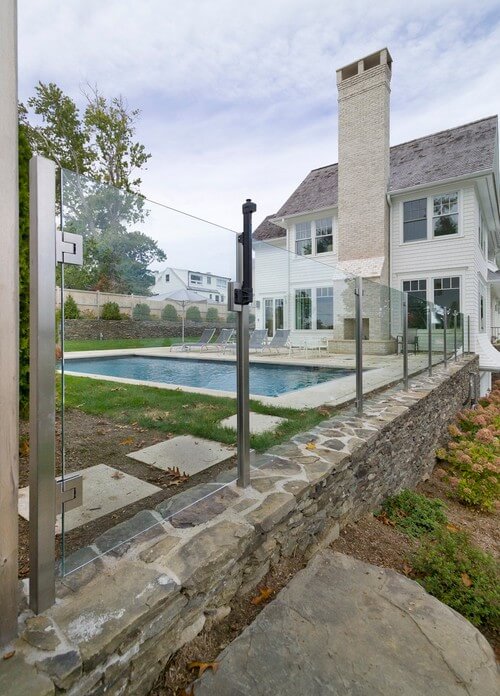 Photo by American Frameless Glass Enclosures – Look for pool pictures
In order to create a semi frameless barrier, the posts need to first be installed securely into the cement, brick, or other flooring around the pool. To do this, holes are drilled for the posts to the proper depth. Then either concrete or an anchoring grout is poured in the hole to hold the post in place. Once the poles are set, the glass panes are put into place, followed by a vinyl channel to cover the area where the glass fits into the poles.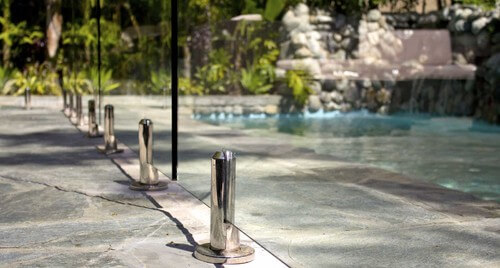 Photo by GLASS POOL FENCES NY – Browse home design ideas
The setup and installation is more time and labour intensive than with frameless fencing, where the spigots are core drilled into the ground and a bolt is used to secure the glass in place, or sometimes the glass itself is embedded directly into the ground. This is one reason why the semi frameless option can be more expensive to complete.
More Materials Can Increase the Price of the Project
Semi frameless glass pool fencing can also cost more because of the extra materials used. The aluminium or stainless steel posts are quite large and require a lot more metal to hold the glass in place than the spigots or channel brackets used in frameless fencing. It's a rule of thumb in home building projects – more materials, more money.
Especially for a larger pool barrier where more posts are required, the price tag of the total project is going to go up.
Views Are Obstructed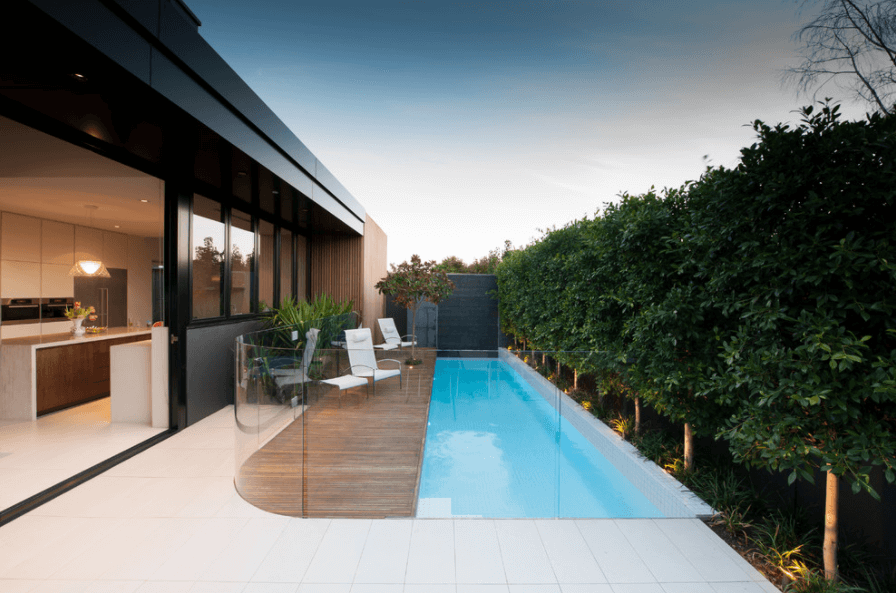 Photo by Frameless Impressions – More pool photos
One of the biggest reasons property owners desire a glass fence around their pool in the first place is the visual appeal. Being able to see straight through the barrier into the inviting pool waters and to take in, at a glance, all the well thought out landscaping features – plush seating, green foliage, the beautiful stone fire pit – creates a totally different ambiance than what you get with large metal posts sticking up every 1000 mm to 1200 mm around the pool.
Frameless Glass Is Often Thicker – And Stronger
When you work with an experienced glazing company, whether you use semi frameless or frameless fencing, they'll almost certainly use toughened glass. This type of glass is about four times stronger than standard glass, which means it's much less likely to break.
But, with a semi frameless pool fence, a thinner glass is usually used – from 8 to 10 mm – to fit within the metal posts. Professional glaziers will use a thicker glass with a frameless fence – such as 12 mm. This thicker glass is stronger and safer, offering a better value and greater longevity for homeowners.
Why Go Half Way When You Can Use Frameless?
Semi frameless not only falls short on the clarity and visual appeal, but what most people don't realise, is that it can be more expensive, whilst also not being quite as durable.
Frameless glass fences are what most homeowners envision when they think of a glass fence. This is how you'll create the illusion of an almost invisible barrier around the pool. The glass panes appear to be suspended in mid-air, creating a truly seamless finish and a luxury feel.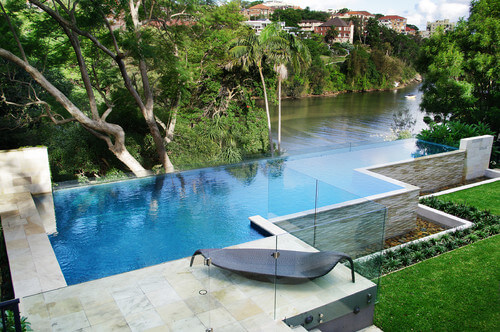 Photo by Peter Glass & Associates – Look for pool pictures
It's important to really know what you are getting into before investing in a glass pool fence. When the objective is being able to fall in love with the look of your pool area every time you look outside, nothing compares to the beautiful, unobstructed views and superior quality of frameless glass.